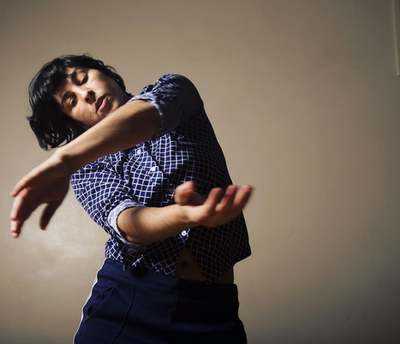 English below
Valeria es artista freelance con base actualmente en San Carlos de Bariloche, Río Negro, Argentina.
Fué artista residente en:
Graner Barcelona (2023), OCOA - Oficina Cultural Oswald de Andrade (Sao Paulo, Brasil 2014) proyecto Puentes con una beca del Fondo Nacional de las Artes (Argentina)
Akiyoshidai International Arts Village en Yamaguchi, Japón, creando la trilogía en video CUERPO PUBLICO y bailando en el mismo espacio y en el Estudio Imaichi de Yamaguchi y el Asterl Plaza, en Hiroshima ( Enero – Marzo 2010)
MIKS company in London, creando [FEVER] (Septiembre 2019 - Junio 2010),
The Performance Corporation en Castletownhouse, Cellbridge, Irlanda (Marzo 2009)
IUDANZA, Caracas (2006 y 2008)
Desde 2004 funda en Amsterdam y dirige la plataforma interdisciplinaria THE MEETING POINT, generando diferentes contextos para la producción y el diálogo interdisciplinarios. The Meeting Point fué presentado a través de distintas formaciones y direcciones en: Bimhuis Jazz en Improvisatie Podium (Amstetrdam 2004-2006), ART ACTS Festival für Jazz und Improvisierte Muziek (St. Johan im Tirol Austria - 2006), WUK (Wien-2006), IUDANZA (Caracas -2006), Festival Montevideo Sitiada (Uruguay - 2004), Festival Buenos Aires Danza (Argentina - 2008), Tecnópolis (Argentina-2012)
En 2016 recibe el apoyo de Prodanza para su edición en el Museo Larreta y la invitación del Festival Buenos Aires Danza para una residencia de creación.
Recibe la beca de formación del FNA 2021 y se presenta en Festival Primavera Teatral y NEvadas Escénicas, Bariloche (2022) , Verano Cultural (2023)
Su proyecto
BORN IN SPRING
(2008), comenzó como un solo migratorio presentándose en espacios públicos y escenarios de Caracas y Berlín, actualmente continúa como un proyecto de escritura sobre procesos migratorios y es parte de su investigación CUERPO PUBLICO que incluye también una trilogía de videos de danza en espacios públicos creada y producida durante su residencia en AIAV, Japón (2010)
Su obra
EFECTO REBOTE
comenzó como parte del proyecto FEVER en el Centro Laban de Londres (2009-2010), y fué presentado en el Festival Buenos Aires Danza 2010 en colaboración con Proyecto Ligado (Buenos Aires) y la Compañía Hibridus (Brasil)
IMPERFECTO
fué creada en 2013 en residencia en el espacio Café Müller y presentada en dicho espacio, en el Centro Cultural Borges y en el Centro Cultural Sábato. Programada en 2014 en el Festival Ciudanza y en 2017 en el Centro Cultural de la Cooperación.
Colaboró con Tommy Noonan en Labyrinth (Buenos Aires in 2010), con Two-Women-Machine-Show (Buenos Aires 2012) y con Benjamin Vandewalle en su proyecto Walking City en Centro Cultural Matienzo (Bs As 2016)
Bailó la obra
DANCING
de Alexandra Baczetsis para su producción en FIBA 2021, las obras de Trisha Brown
Floor of the Forest
y
Accumulations
diariamente durante los tres meses de duración de Documenta 12 en 2007 en Kassel, Alemania. Bailó en proyectos de Q Hisashi Shibata at Heinz-Minki, Berlin, Tian Zhiming - China Moves Fabrik Potsdam, Bridge Markland, Katie Duck, Robert Steijn y Frans Poelstra (United Sorry) en Impulstanz Festival y colaboró con los artistas visuales Edgar Jansen (2001-2010 Amsterdam), Oisin Byrne (Ireland 2009) y Shiina Takehito (Japan 2010)
Como docente en danza ofreció sus talleres en : IUDANZA, Caracas; Festival Montevideo Sitiada, Uruguay; Studio Anna Mora, Al Nour and Dansdrift, The Netherlands. SOZO dance visions school in Kassel, Germany. Hiroshima y Yamaguchi Escuelas elementales en Japón, Formación de bailarines de Café Müller, formación de bailarines de LEM (Buenos Aires), Cetaba (Centro de Técnica Alexander de Buenos Aires) , Escuela de Shiatzu de Vallerie Gaillard, Espacio En.tres, Espacio EK, Festival Bs As Danza, Festival de Danza Contemporánea del Valle Medio, Festival Give-a-dans (Amsterdam AHK) e.o.
Es profesora invitada anualmente en Buitenkunst, Holanda desde 2006 y en Etaba (Escuela de Técnica Alexander de Buenos Aires desde 2013)
Recibió las Becas: Informatie Beheer Groep, Holland, 2001-2005 / Internationalissering Fonds - AHK, 2003 / Uitnodiging op Naam – AHK, 2004 / Prakticum Generale AHK, 2004 / Dance Web Europe 2006 – Impulstanz Festival, / FAPK - NL – 2006 / Kunstenaars en co. - NL – 2006 / Kunstenaars en co.- NL – 2007 / Fondo Nacional de las Artes - OCOA 2014 / PRODANZA 2016 / Fondo Nacional de las Artes, perfeccionamiento 2013, 2017 y formación como docente en 2021.
FORMACION
Inició su formación profesional de manera independiente en 1996 en Buenos Aires donde estudió con Marina Giancaspro, Ana Maria Stekelman, Olga Ferri, Cristina Barnlis, Ana Garat, Gustavo Lesgart, y trabajó con Monica Fraccia, Oscar Araiz y Silvia Pritz. En 2001 comenzó sus estudios de licenciatura en Amsterdam Hogeschool voor de Kunsten, Theaterschool en el Modern Theatre Dance y SNDO, donde se graduó en Junio de 2005.
de 2001 a 2010 Estudió de manera asidua con Julyen Hamilton, Nienke Reehorst, David Zambrano, Cristina Barnils, Angellique Willkie, Sidi Larbi Chercaoui, Benoit Lechambre, Katie Duck, Mark Tompkins, Andrew Harwood, Mathilde Monnier, Martin Kilvady, Chrysa Parkinson, entre otros.
Desde su regreso al país en 2010 tomó clases con Eugenia Estévez, Luis Baldasarre, Thomas Hauert, Diana Szeimblum, Luc Vanier y Lisa Nelson.
.........

Valeria is a frelance artist based currently in S.C. de Bariloche, Argentina
She has been a resident artist at:Graner Barcelona (2023) ; OCOA - Oficina Cultural Oswald de Andrade (Sao Paulo, Brazil 2014) ; Akiyoshidai International Arts Village, Yamaguchi, Japan (January - March 2010); MIKS company at LABAN Center London, creating [FEVER] (Sep- Nov2009);
The Performance Corporation at Castletownhouse, Cellbridge, Irlanda. (March 2009)
In 2004 she founds The Meeting Point , interdisciplinary improvisation platform in Bimhuis Amsterdam. Where she programed and performed every month from June 2004 until June 2006.This platform was also presented at
ART ACTS Festival für Jazz und Improvisierte Muziek (St. Johan im Tirol Austria - 2006), WUK (Wien-2006), IUDANZA (Caracas -2006), Festival Montevideo Sitiada (Uruguay - 2004), Festival Buenos Aires Danza (Argentina - 2008), Tecnópolis (Argentina-2012)
In 2016 with the support of Prodanza holds an edition at Museo Larreta and is invited to Festival Buenos Aires Danza for a creative residency.In 2022 receives a teaching scholarship by FNARTES and performs at Festival Primavera Teatral and Festival Nevadas Escénicas. And at Verano Cultural Bariloche 2023.
Her solo work BORN IN SPRING (2008) was perform at divers public spaces and stages in Berlin and Caracas. Continued by her research Public Body which includes the video trilogy created in Japan two years later at AIAV.
Her dance work EFECTO REBOTE startes as a part of the project FEVER and was performed in a remake at Festival Buenos Aires Danza 2010 in collaboration with Proyecto Ligado (Buenos Aires)and Hibridus Dance Company (Brasil)
Her dance work IMPERFECTO created in 2013 as a residency in Café Müller , Buenos Aires performed at the same space as well as Centro Cultural Borges and Centro Cultural Sábato, Festival Ciudanza 2014 and Centro Cultural de la Cooperación in 2017.
She colaborated with Tommy Noonan on Labyrinth Buenos Aires in 2010, Two-Women-Machine-Show Buenos Aires 2012 , Benjamin Vandewalle on Walking City at Centro Cultural Matienzo (2016)
She danced the work DANCING by Alexandra Bachzetsis (FIBA 2021) and Floor of the Forest and Accumulations by Trisha Brown (Documenta 12 in 2007 Kassel, Germany).
She also performed works by Q Hisashi Shibata at Heinz-Minki, Berlin, Tian Zhiming - China Moves Fabrik Potsdam, Bridge Markland, Katie Duck, Robert Steijn y Frans Poelstra (United Sorry) Impulstanz Festival. And colaborated with visual artists Edgar Jansen (2001-2010 Amsterdam), Oisin Byrne (Ireland 2009) y Shiina Takehito (Japan 2010)
As a teacher she taught workshops at: IUDANZA, Caracas; Festival Montevideo Sitiada, Uruguay; Studio Anna Mora, Al Nour and Dansdrift, The Netherlands. SOZO dance visions school in Kassel, Germany. Hiroshima y Yamaguchi elementary schools, Japan, Dance Academy at Café Müller, Dance Academy at LEM (Buenos Aires), Cetaba (Centro de Técnica Alexander de Buenos Aires) , Shiatzu School directed by Vallerie Gaillard, Espacio En.tres, Espacio EK, and Henko. Festival Buenos Aires Danza ( 2016), Give a Dans Festival (Amsterdam 2022), Festival de D C del Valle Medio (Luis Beltrán 2023).She is a regular guest teacher at Buitenkunst (Holland since 2006) and at Etaba (Escuela de Técnica Alexander de Buenos Aires since 2013).

She was granted the following scholarships: Informatie Beheer Groep, Holland, 2001-2005 / Internationalissering Fonds - AHK, 2003 / Uitnodiging op Naam – AHK, 2004 / Prakticum Generale AHK, 2004 / Dance Web Europe 2006 – Impulstanz Festival, / FAPK - NL – 2006 / Kunstenaars en co. - NL – 2006 / Kunstenaars en co.- NL – 2007 / Fondo Nacional de las Artes - OCOA 2014 / PRODANZA 2016 / Fondo Nacional de las Artes, perfeccionamiento 2013 y 2017 and FNA teaching scholarshio 2021.

STUDIES
She began her dance studies in the independent scene in Buenos aires 1996 with
Marina Giancaspro (Cunningham and release), Ana Maria Stekelman (Müller), Olga Ferri (ballet) , Cristina Barnlis (Graham) , Ana Garat (floor work), Gustavo Lesgart (acrobatic dance), and she wokred with local choreographers Monica Fraccia, Oscar Araiz y Silvia Pritz.
She began her BA studies in Amsterdam in 2001 at Amsterdam Hogeschool voor de Kunsten, Theaterschool at the Modern Theatre Dance and SNDO, where she graduated in 2005.
Since 2001 she took workshops regularly with Julyen Hamilton, Nienke Reehorst, David Zambrano, Angellique Willkie, Sidi Larbi Chercaoui, Benoit Lechambre, Katie Duck, Mark Tompkins, Andrew Harwood, Mathilde Monnier, Martin Kilvady, Chrysa Parkinson, a.o.
Since her return to Argentina in 2010 she trained and studied with Eugenia Estévez, Luis Baldasarre, Thomas Hauert, Diana Szeimblum, Lisa Nelson, Julyen Hamilton.
She followed the three year Alexander Technique Studies (2010-2013) graduating with the support of the National Arts Funds. And continued training on marcial arts. (see martial arts and Alexander Technique bios for more)
Since 2014 she takes workshops with Luc Vanier for Alexander Technique Teachers applying this technique to dance training
​​​​