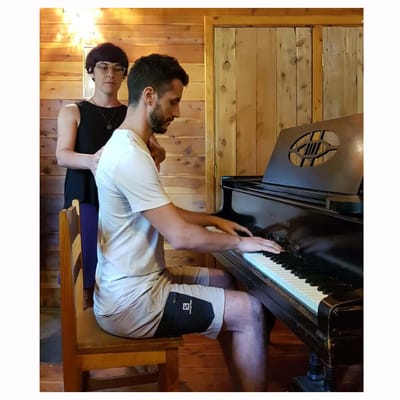 English below
Conocí la Técnica Alexander en el año 2001 como parte de la Licenciatura en Danza Contemporánea en la Universidad de las Artes de Amsterdam (AHK). Desde ese momento practico e integro la técnica a todas mis actividades.
Visité periódicamente la escuela dirigida por Arie Jan Hoorweg: Alexandertechniek Opleiding Amsterdam (ATOM) en mis primeros años de contacto con la técnica y también visité distintas escuelas en Berlin y New York.
Al regresar a Buenos Aires en 2010 inicié mi formación como profesora en la Escuela de Técnica Alexander de Buenos Aires , dirigida por Merran Poplar, donde me gradué en Noviembre de 2013, con apoyo de una beca de perfeccionamiento del Fondo Nacional de las Artes y con la certificación de "The Society of Teachers of the Alexander Technique".
Tomé clases individuales desde el 2001 con profesores como Georgia Dias (Br), Caren Bayer y John Nichols (New York), Helga Langen, Arianne Dijktras y tuve oportunidad de trabajar grupalmente con Tom Koch (Amsterdam) Lucia Walker, Luc Vanier , Merran Poplar, Violeta Winograd en Buenos Aires.
Desde 2014 participo de los talleres para profesores de Técnica Alexander en cada visita de Luc Vanier a Buenos Aires, además de tomar sus clases individuales. Profundizando en su aplicación de los procedimientos Dart de la Técnica Alexander al entrenamiento en Danza.
En 2015 formé parte del grupo ExperimenTA de profesores multidisciplinarios de la Técnica Alexander, ofreciendo talleres colaborativos para músicos instrumentistas.
Desde 2018 - 2020 colaboré con la Asociación Parkinson Argentina a través de talleres grupales y clases individuales para personas con Parkinson, desarrollando mi propio abordaje de la Técnica Alexander para la reducción de los efectos cotidianos de la enfermedad.
Desde 2018 integro mis prácticas de Danza, Kung Fu y Técnica Alexander en el proyecto Movimiento Integrado que busca potenciar la aplicación de cada práctica a las diversas necesidades de desarrollo del movimiento libre, eficiente y saludable para bailarines, deportistas, músicos, personas con capacidades limitadas y el uso cotidiano. Así como para los procesos creativos de la danza en escena.
Además dí clases magistrales y talleres grupales en formaciones de danza contemporánea como SOZO (Kassel Alemania), IUDANZA (Caracas, Venezuela) TanzFabrik (Berlin), LEM, Café Müller (Buenos Aires) , El Consejo Internacional de Danza de la Unesco en Guayaquil (Ecuador), la Orquesta de la Fuerza Aérea Argentina y colaboró con la cátedra de Música de Cámara de la profesora y concertista Fernanda Morello en el departamento de Artes Musicales y Sonoras de la UNA, y en el EPI Encuentro de Piano en el Camping Musical Bariloche, e.o.
.....
I met the Alexander Technique for the first time in the year 2001 as I began my dance BA studies at the University of the Artes in Amsterdam (AHK). The technique was introduced in the context of injury prevention and we received three full years of weekly group and or individual lessons. The head teacher was Helga Langen and we also received the regular visits of Tom Koch
Since the I integrate the Alexander Technique in all my activities.
In the year 2004 I began vissiting Arie Jan Hoorweg´s Alexandertechniek Opleiding Amsterdam (ATOM) acting as a practice student for the advanced students who were about to graduate like Violeta Winograd, Paula Colangelo and Patricia Hayward who were later also my training teachers in Buenos Aires. Also then I met Merran Poplar who was later the director of ETABA where I began my training as a teacher in 2010 in Buenos aires and where I graduated in 2013, certifed by STAT and with the support of the National Arts Funds

Since 2001 I have taken individual lessons with Georgia Dias (Br), Caren Bayer and John Nichols (New York), Helga Langen, Arianne Dijktras, Merran Poplar, Violeta Winograd and Elizabeth Walker
And have taken workshops with
Pedro de Alcantara, Carmen Tarnovsky, Mariana Di Paula,
Elizabeth Walker, Merran Poplar, Marina Giancaspro, a.o.
Since 2014 I take part in the workshops for AT teachers by Luc Vanier in Buenos Aires, deepening in the Dart Procedures and the application of the AT to dance training.
I have also regularly translated workshops by foreign teachers to Buenos Aires since 2010 from English into Spanish.
Since 2013 I teach privately at my own space as well as the Alexander Technique Center in Buenos Aires. I am also a collaborating teacher at the teacher´s training ETABA directed by Merran Poplar and currently by Violeta Winograd.
In 2015 I was part of ExperimenTA a group of multidisciplinary teachers , offering collaborative workshops for musicians.
Between 2018 and 2020 I collaborated with the Parkinson Association in Buenos Aires (ACEPAR) teaching group and in individual classes, and developing my own approach from the Alexander Technique to dealing with and reducing daily symptoms of the disease.
I have developed a system which can integrate my work in marcial arts and finding a big common ground in the Daoist Philosophy, about which I am currently writing.

I have also taught at different Dance Studies like SOZO (Kassel Alemania), IUDANZA (Caracas, Venezuela) TanzFabrik (Berlin), LEM, Café Müller (Buenos Aires), and Consejo Internacional de Danza de la Unesco in Guayaquil (Ecuadro)
I have taught the Alexander Technique for musicians at the Chamber Music studies at the Musical Department of the National Arts University, the Air Forces Orchestra and the Piano Meeting at Camping Musical Bariloche.